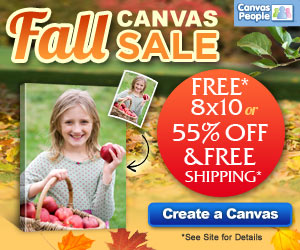 Canvas People is yet again offering this awesome deal on a 8×10 canvas!  You'll just pay shipping which is $14.95.  I've mentioned in the past that I'm ordering one each time it goes on sale so that I can fill my large bare wall in my living room. Here's the canvas that arrived at my door last time.
And here's the picture I'm ordering this time!  It's of my son and my brother when they saw each other for the first time after his deployment.  How sweet is this picture?  It makes me tear up every time I look at it.
If you want to grab the same deal, don't wait!
FREE 8×10 (Just pay shipping.)